1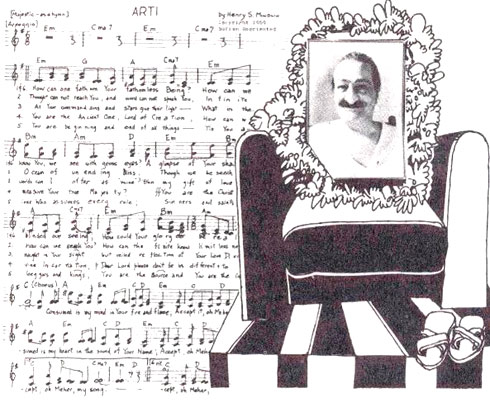 Introduction:
THE LAST DARSHAN:
DESPITE BABA'S PHYSICAL ABSENCE THOSE LOVERS WHO DESIRE TO VISIT GURUPRASAD POONA TO HONOUR BABA'S INVITATION FOR DARSHAN UP TO TENTH JUNE CAN STILL COME ABIDING STRICTLY TO THE SCHEDULED DATES AND CONDITIONS AS PER FAMILY LETTER DATED FIRST NOVEMBER STOP JOURNEY WILL NOW INCLUDE HALFDAY VISIT TO MEHERABAD TO PAY HOMAGE AT BABA'S TOMB STOP AFTER TENTH JUNE ANYONE CAN MAKE PILGRIMAGE TO POONA AND BABA'S TOMB INDIVIDUALLY OR COLLECTIVELY UNDERSTANDING THAT ALL ARRANGEMENTS MUST BE MADE ON ONE'S OWN STOP INFORM ALL CONCERNED YOUR AREA JAIBABA ADI K IRANI feb 8 69 AHMEDNAGAR
Avatar Meher Baba had said in November, 1968, he would give darshan "on his own terms." No one had an inkling of what these terms would be . . . "It will yet take some time for all traces of the strain to disappear and for me to be 100% fit to see them all . . . " "The 1962 East-West Gathering was nothing compared with what this Gathering will be . . . " " . . . The Darshan will be strictly for My lovers . . . " "I have been saying the time is near, it is fast approaching, it is close at hand. Today I say the Time has come. Remember this." (October 13, 1968).
Baba also said this darshan would be unparalleled . . . it would he the last Darshan given in Silence, the last before He speaks his world-renewing word . . . that, when He started giving Darshan to His lovers, it would not be for a limited period but for all time. He also said he would give his Darshan in a reclining position . . .
All these were hints of his 'own terms' . . . that he would not be with us physically, but spiritually; not as a sight for our eyes but an experience for our hearts; we not be able to touch His 'cloak', but we could hold on to His daaman . . . And so it happened. A total of 695 men, women and children from the West came to have 'Last Darshan' of their Beloved Baba . . . "Rivers and streams answering the Ocean's call," as Mani put it, plus many Easterners from India and Pakistan.
In the following pages you will read of the three Darshan weeks. We could not publish all the material received. Let this be just a 'glimpse' of the Last Darshan. And many thanks to all who have made this account possible. Editor
Webmaster is adding the words here to the American Arti because the words on the scanned image above are illegible. 6-26-07