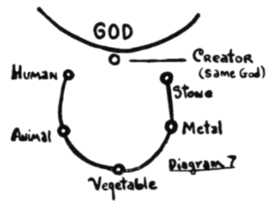 Stone is the first important form which is visible to the naked eye. Every stone has eyes, nose, mouth, hands and feet, in fact a complete body, exactly like the human body; but as it is compact to the last degree, it is extremely latent in this form. It is like the cloth doll which can be made to resemble an uneven piece of stone when it is carefully folded up. With the evolution from the stone, these imperceptible, compact parts of its body begin getting unfolded. In the metal kingdom, they are still invisible to the naked eye; but in the vegetable kingdom, the crude manifestation of the latent form is perceptible to some extent.
The latent form in the stone evolves with the head going towards the ground and the feet rising up, gradually becoming upside down in the vegetable kingdom with the head completely underneath the ground and the feet straight up, as is the case with a tree. The tree form is the FIRST TURN of this latent human form. Observe the tree carefully. The mesh of roots are the hairs on the head of the tree. The mouth is there, though latent, and so it is not seen by the naked eye. Water and manure are given to the trees in order that they may drink and eat at their bottoms, and not on their tops, for their mouths are underneath the ground. The entire portion, from throat upwards, of the body of every tree stands above the ground. The lowest visible portion of the trunk is the throat of the tree, and the remaining trunk is its main body. The bigger branches are its hands and feet, and the smaller branches are the fingers of its hands and feet.
With the evolution from the vegetable kingdom, the feet of the crudely manifested inverse human form in the tree gradually come further and further down as the soul passes through different forms, until they (the feet) lie flat on the ground in the form of a worm, whose mouth is upward and not underneath the ground. This is the SECOND TURN.
39