45
the ocean. and that we were all going "through the water" with Him first . . . It was tremendous . . . a real baptism. Many got shoes and trousers wet, as it was unexpected, as so often Baba's greatest treats to His children are. The men carried Him on at great speed and put Him down at the edge of the ocean, but no, Baba signed, 'up and on!' They took Him right into the foaming water, and put Him down again. But as Baba says 'up and on' again, and amidst hilarious joy He was taken further in and then He signed to be put down. And there He was, the Ocean of Love and Truth and ALL That IS, in the physical ocean almost up to His knees. The waters swirled around Him, caressing His legs as He rested there a moment gazing out to sea, — and who knows what work was done in that memorable timeless moment. We, who were privileged to be with Him at that time, would never in the real heart of us be the same again, however many times we lapse and fail, — something had been done for us. We had been strengthened with light in the inner man by the Master Himself.
I am never silent.
I speak eternally.
The voice that is heard deep
within the soul is My Voice —
the voice of inspiration, of
intuition, of guidance.
— Meher Baba
With Baba at the Dunes (see page 53)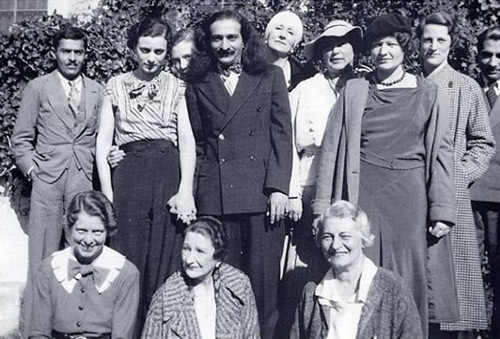 Top, left: Brother Jal, Minta Toledano, unidentified lady, Baba, Norina Matchabelli, Nadine Tolstoy, Elizabeth Patterson, Rano Gayley, Adi K. Irani
Front row, left: Jean Adriel, Nonny Gayley, Ruano Bogislav
The address of the house in this photo that Malcom and Jean Schloss rented is 1840 Camino Palmero, Los Angeles, California 90046, December 18, 1934 through January 7, 1935 . - added by webmaster 2009 J.K.